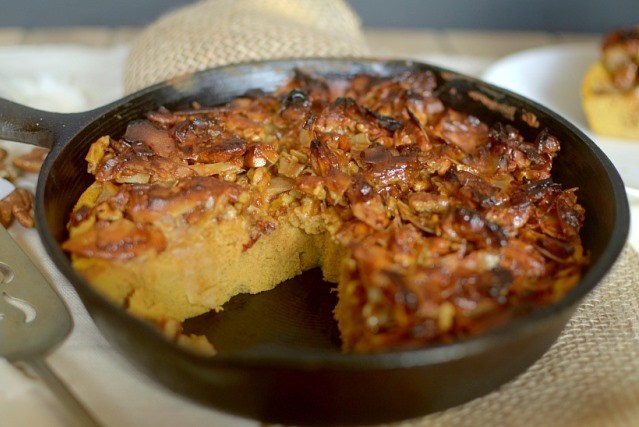 A (Super Local) Farm-Inspired Feast
Cherith Andes
Clairemont Communications
At Wendell Falls, we have an ongoing love affair with everything local. Local music. Local artists. Local homebuilders. Our on-site Grounds Café even brims with java, beer and sweet treats from Raleigh's local brewers and bakers. (Yum!)
To celebrate our local farmers, the Wendell Falls team embarked on a recipe scavenger hunt. We curated our favorite recipes featuring ingredients from the local farms on the farm tour in the eastern Triangle. Cinch your apron, don your chef's hat, and try your hand at these easy dishes – using tasty tidbits from our local farmers!
Caramel Sweet Potato Baked Streusel Pancake
Source: Athletic Avocado
Wendell Falls Favorite From: Elyse Phillips, Community Representative
Featuring: Sweet Potatoes from First Fruits Farm
Breakfast any time of day! This sweet potato pancake oozes a sweet coconut filling topped with caramel glazed pecans. You'd never guess that it's also paleo, gluten-free, grain-free and dairy-free!
Source: Country Living
Wendell Falls Favorite From: Shannon McSwiney, Marketing Director
Featuring: Fresh veggies from Meadow Lane Farm
An entrée-style salad packed with crisp greens, colorful veggies and a Green Goddess Dressing worth an Insta pic!
Source: Food Network
Wendell Falls Favorite From: Susan Reynolds, Broker Liaison
Featuring: Chicken from Fat Radish Farm
A simple, saucy favorite for game days, picnic days or Netflix-couch days.
Source: Food Network
Wendell Falls Favorite From: Lee Bowman, Senior Project Manager
Featuring: All-natural, grass-fed beef from Rare Earth Farms
Delightfully easy and elegant entrée that steals the supper spotlight.
Berry Crisp
Source: Minimalist Baker
Wendell Falls Favorite From: Cali Burhman, Marketing Coordinator
Featuring: Berries from Vollmer Farm
Warm and comforting, this berry-packed fall treat boasts a crisp, grain-free crust and pairs perfectly with a little Vanilla Coconut Ice Cream.
Alpaca Dreams NC: While this farm doesn't necessarily have edible ingredients to feature, it offers something a little more lasting. Stop by Alpaca Dreams NC and visit its gift shop to spruce up your wardrobe with handmade couture or keepsakes, like hats or stuffed animals crafted from local alpaca wool.