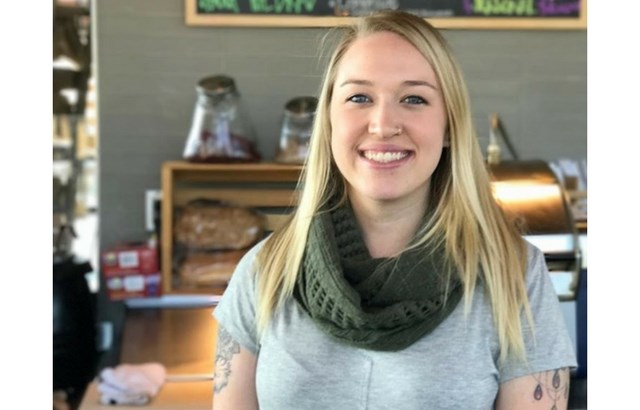 Meet the Team: Grounds Café Manager, Courtney!
Cali Buhrman
Marketing Coordinator
If you've ever walked inside Grounds Café, then you have most likely run into Courtney, who has been the Café Manager since grand opening in 2015. She has a sandwich named after her (gooey grilled cheese, anyone?) and recently hit a huge milestone: purchasing her very first home, in Wendell Falls of course! I had the opportunity to sit down with Courtney and ask how she does it all: managing a small business, navigating the world of homeownership, and how she's been enjoying life at Wendell Falls.  
How did you meet Casey (the owner of Grounds Café) and get involved in the café?
I started working with Casey at Event Espresso, her coffee catering company, in 2014 after we were introduced through mutual friends. Once Newland proposed the idea of a brick and mortar shop for Wendell Falls, she thought I would be a great fit. I was already a lead barista with Event Espresso, and had a lot of customer service experience, so she asked me to be the Manager, and the rest is history!
When did you know you wanted to live at Wendell Falls?
I think walking through the model homes and seeing the potential of the neighborhood really helped me decide to move here. I was at a point in my life where I really wanted to invest in something, and Wendell Falls felt like the right place to be.
What advice would you give to other first time homebuyers?
One piece of advice I have for first time home buyers would be to always look for the potential to add value to your home. Your home is a huge investment! If you add things like a fence or a deck or even a garage—do so! It will add value if you decide to sell one day, and you'll feel good spending the time on making it look better.
How has your life changed since moving to the community?
I have met so many new friends at Wendell Falls (and also the love of my life, who was part of the crew that built our MTB trails)! I also enjoy being so close to work – the convenience of walking or biking to the café has been so nice and allows me to spend less time on the road and more time doing things I enjoy. I also love being so close to Raleigh, I love going to dinner, drinks, and a show downtown and didn't want to give that up when I moved.
Stop by Grounds Cafe today and order a "Courtney"-- you won't be disappointed, and know that the woman behind the sandwich is an unstoppable #GirlBoss living right here in the neighborhood!