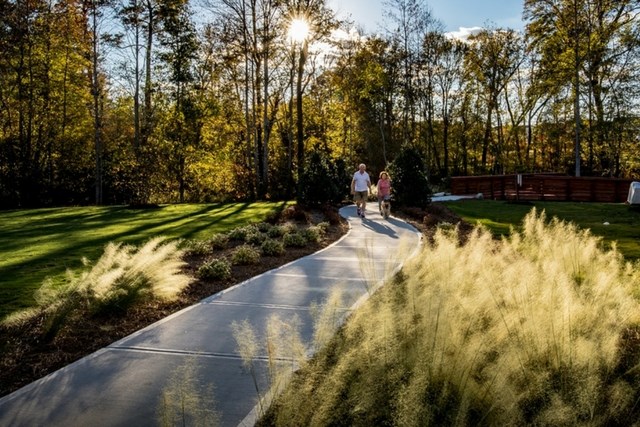 Get Fit at Wendell Falls
Cali Buhrman
Marketing Coordinator
We're all looking for more ways to incorporate healthier living into our lifestyle—or at least I am! From juice cleanses to 6 a.m. spin classes, trust me when I say I have tried it all. Waking up at the crack of dawn has been fun and all, but leading an active, healthy lifestyle is so much more manageable when it is all outside your door. Here are just a few ways our residents get fit at Wendell Falls:
Walking and Biking Trails:
Our community has preserved about 25% of the land for open greenspace, including walking and mountain biking trails. These trails are great for beginner or advanced fitness enthusiasts, and are only going to grow with our community. Residents can enjoy a stroll around the neighborhood after dinner, or a morning jog before they start the day—all surrounded by gorgeous rolling hills, parks and playgrounds, and amenities like our lakeside pavilion! You'll never get bored of the scenery here, and forget sitting in traffic on the way to the gym—this is all outside your front door.
State-of-the-Art Gym
If outdoor adventures aren't your thing, the fitness room (located inside the Farmhouse) has everything you need to get your sweat on. Treadmills, ellipticals, free weights, and machines are ready to use at any time that is convenient for you—it is open 24 hours a day so your workout doesn't depend on anyone's schedule but your own. Bonus: Grounds Café has weekly group activities if you're feeling social! Check out their Facebook page for their schedule of run club and yoga on the lawn.
Salt-water Pool
Nothing goes with summer like a refreshing dip in the pool! We have designated lap lanes so that residents can get a great workout in, without the smell of chlorine. Bring the kids along for a day of fun, and when you're finished grab a signature salad or cold-pressed juice from Grounds Café upstairs!
How do you stay healthy at Wendell Falls?