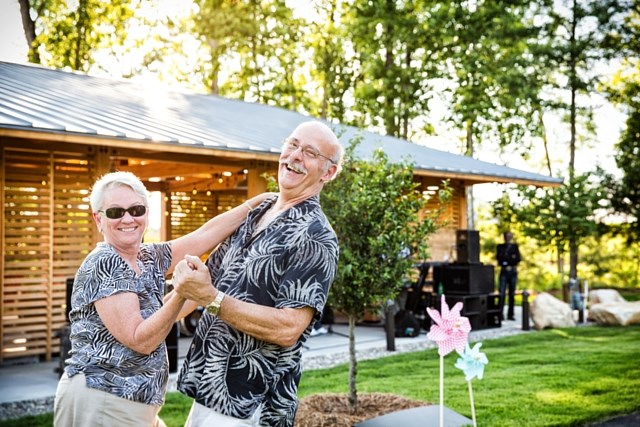 Why Wendell Falls?
Kelly Talbot
Marketing Manager
The Newland Communities team had the privilege of attending Meredith Oliver's "Find Your Fan Factor" seminar this week, in which we learned a great deal about how to create fans. She had so many great pointers, but one that really stood out to me was "Content without Context doesn't add value". We at Wendell Falls put out a lot of information about our community because we have SO much to offer. We have wonderful amenities, beautiful homes that are ecoSelect Certified, we offer AT&T U-Verse, we are a lifestyle community, and the list goes on and on.  This is all really great, but WHY does all this matter to you? We'll here is the BECAUSE:
We have beautiful amenities. So what?
BECAUSE unlike many other new home communities in the Triangle, Newland Communities doesn't count rooftops before we put in our amenities. Since day one of opening Wendell Falls, we had an onsite community center -The Farmhouse, and onsite café- Grounds Café, gym, pool, trails, playgrounds and parks- since day one! It's very frustrating to invest in a new home and not know for certain when your kids will be able to enjoy their community pool- especially when it doesn't open when promised. No such worries at Wendell Falls. By the way, our pool season starts on May 22nd!
All of our homes are ecoSelect certified. So what?
BECAUSE bottom line, it saves you money! We have a whole page on our website dedicated to showcasing what you can do with the money you save living in a Wendell Falls ecoSelect certified home. The average savings per home is $350 yearly*.
We offer AT&T Fiber. So what?
BECAUSE no one has the time or patience for slow internet service these days. Each home in our community has a direct line to AT&T Fiber, a 100% fiber optic network with speeds up to 1 gigabit per second. AT&T offers our homeowners the latest Wi-Fi technology and expanded coverage. This means you can download an entire HD movie in less than 40 seconds, get a 1-hour HDTV episode in 3 seconds, or download 25 songs in less than 1 second.
We do more than build great places to live, we establish a community. So what?
For this, I'm going to quote the Newland Communities website directly. BECAUSE, "In every community we create, one thing will never change—we start with the people who will one day live there, raise their families there, or retire there. "Home" means something different to a young couple just starting out, to a family with teenagers, to a couple with adult children returning home, or to an empty nester who works from home. Newland is the largest private developer of planned residential and urban mixed-use communities in the United States, and we believe it is this diversity that creates the special sense of community that comes to life every day in each of our communities." Now that's something we can get behind.
We are in a great location. So what?
BECAUSE plain and simple, the Raleigh area is a great place to live and to relocate. Raleigh constantly receives accolades—I feel like I see a new accolade from the Triangle market daily in my Facebook newsfeed!  Our real estate market is strong, our job market is strong, and seriously this is the place to be! Wendell Falls has direct highway access, cutting down driving times to various locations throughout the Triangle. You can get to Wendell Falls faster than a lot of other locations throughout the Triangle—see for yourself.
We are open seven days a week, so stop by and see what Wendell Falls has to offer!
*According to Southern Energy Management as of 4Q2015. 

This is intended for comparison purposes only. Actual energy savings and energy use is dependent upon occupant(s). Estimates are based on modeling from Architectural Energy Corporation's REM/Rate software. © ecoselect Certifications, LLC.