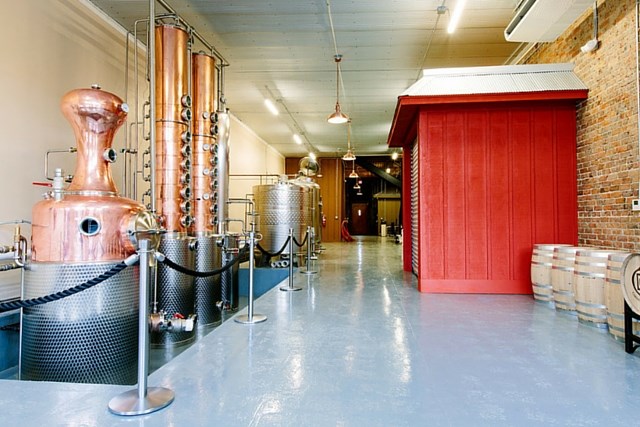 Discovering Downtown: Oaklee Distilling Company
by Paige Rhinehalt
When passing 13 N Main Street, you've probably wondered what's behind the newly renovated facade. Well we are here to give you all the details. Thirteen North Main Street is home to Oaklee Distilling Company. Oaklee is a craft distilling company, focused on producing spirits in the classic categories, combined with new innovation. Founded in 2014, Oaklee Distilling was a college vision that came to life. Lee Browne, Raleigh native and Carolina graduate, began this journey after being assigned to develop a business plan in a college class. Little did he know he was creating a plan for his future. With support from family, friends, and the community, Oaklee Distilling Company was formed. After seven years of dreaming, developing, and creating, at the end of 2015, Oaklee was granted State and Federal licensing.
Located in Wendell's historic downtown, Oaklee Distilling occupies a building which was built in 1929. While transforming the space into a modern distillery, Lee and his contractors were able to retain much of the building's character and charm. Above the main floor distilling operations is a warm and inviting second floor. Oaklee is focused on producing all spirits in house; Milled, Distilled, and Bottle Filled in Wendell, NC. Walking through, you may observe each phase of production. From the milling of grain, the mashing and fermentation, to the distillation and bottling.
What spirits might you expect to see from Oaklee Distilling Company? Boots Vodka, which is crafted from sweet potatoes. Boots Vodka,distilled to Troop Strength. Inspired by appreciation for all those whose duty is to keep America safe and a childhood nickname, Boots Vodka is kicking it up a notch - distilling to 90 proof. Produced out of "respect to the martini drinker" Boots Vodka provides increased traction, while mixing well in traditional cocktails. Following the release of Boots Vodka, Oaklee expects to release Peacock Gin, a gin crafter for those who prefer the traditional dry style. Like Boots Vodka, Peacock Gin was founded out of an appreciation for the martini drinker, however, it too, lends itself to classic cocktails.
In addition to the first floor copper and stainless equipment, the second floor features a beautifully remodeled flat. As an event space, the entire facility is available for rent. Distillery tours are offered to all interested parties every Friday from 5 to 7:30pm. Learn more about rentals, tours, or find more information about the distillery on their website here.