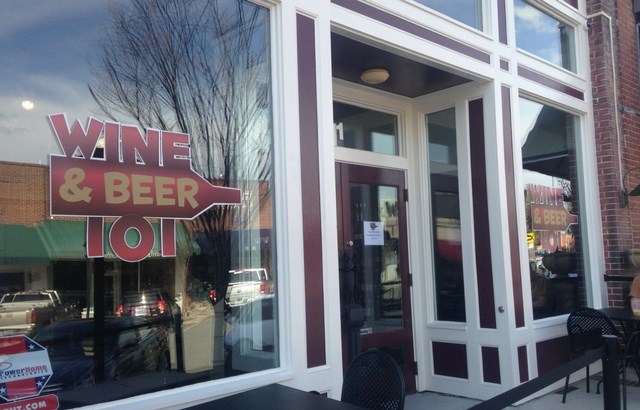 Discovering Downtown: Wine & Beer 101
by Jessica Collins
For local residents, Wine & Beer 101 (101) has quickly become a downtown Wendell favorite. What started in Wake Forest, North Carolina as a wine retail store, expanded into a wine and beer retail store with three area locations. With large open rooms for lounging, the Main St. location is a local community gathering spot and home to an exciting new project. Joe O'Keefe, 101's owner, is opening his (and Wendell's) first brewery. Named Four Wagon's Brewery after Wendell's famously wide downtown streets, the operation is set to be part of 101 Wendell's operation.
So what should you expect from 101? You will find welcoming staff providing superior customer service and a comfortable atmosphere that allow you to feel at home. 101 encourages customers to meet up with friends, bring food, and order a drink or two while hanging out and catching up. They also encourage bringing along the entire family - humans and animals!
If you are looking to learn more about your favorite wines or beers, take a class. 101 offers wine classes out of the shop with special food pairings. Lead by a winery, sommelier, or 101 staffer, the classes are an intimate gathering (15 - 20 people) for those interested to learn more about a favorite drink.
Be sure to check out 17 N. Main St. if you are new to the area or haven't yet stopped by! The shop is open Tuesday through Thursday 11 am - 7 pm and Friday 11 am - 9 pm. Wine tastings are offered Friday 5 pm - 7 pm. We're pretty certain you'll love what 101 has to offer!