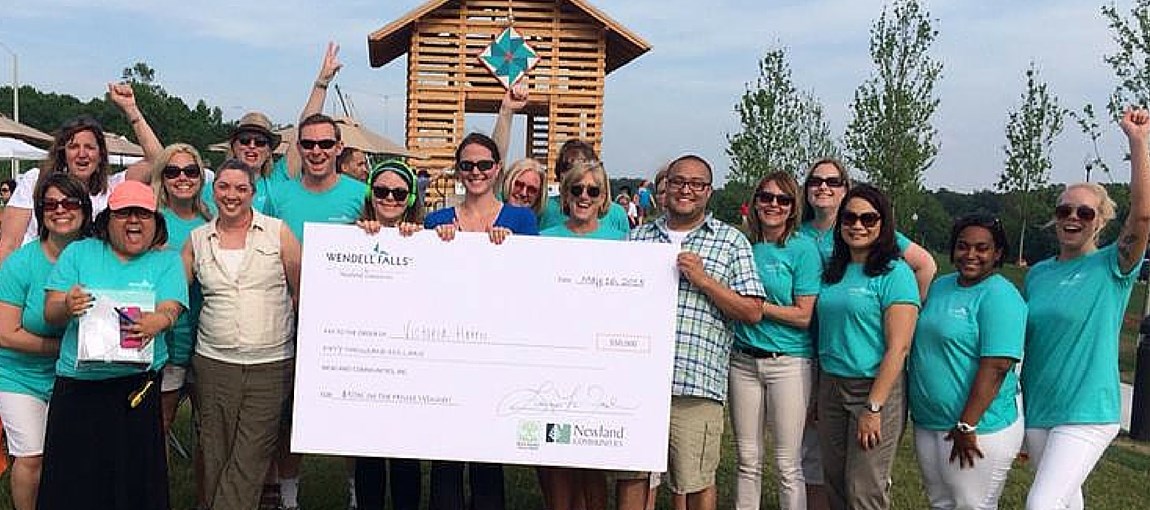 Checking in on our 50K Winner!
Cali Buhrman
Customer Relations Representative
About six months ago, in celebration of the Grand Opening of Wendell Falls, we decided to go big and offer a $50,000 incentive to a very lucky winner towards the purchase of a new home in the community. That special someone, Victoria Harris, has been living in the neighborhood since August, and I had the chance to catch up with her to see how her experience living in Wendell Falls has been so far.
What went through your mind when you heard your name called to win $50K on the house?
I could not believe it! I just wanted to get up on stage as fast as I could so I would not lose the prize. I was so overwhelmed with disbelief and joy. I felt so blessed!
So far, what has been the best part about living in Wendell Falls?
The best part of living in Wendell falls has been enjoying and exploring all of the beautiful features this neighborhood has to offer. We love going to the farmhouse to listen to music and enjoying the trails and parks. My daughter would say her favorite part is the pool and playground! Plus, this area is so beautiful and I love driving down Wendell Falls Parkway every day after work and enjoying the beauty of all the trees.
What were the most important details to you when selecting your home?
It was very important for me to have a bonus space/ playroom for my daughter and an in-law suite. I wanted my family and my daughter to have their own spaces. My family has always been so supportive and I want them to feel welcome and comfortable every time they come to visit.
What is your favorite room or part of your new home, and why?
My favorite part of my home is the living room. It is so open and spacious and we spend a lot of time there as a family. Plus, it is open to the kitchen so my daughter can play while I cook which is so convenient. (Check out the picture below!)
We are so happy to have Tori in the neighborhood, and love seeing her out and about on our trails and during Grounds Cafe's Friday night music. We could not have chosen a more deserving winner!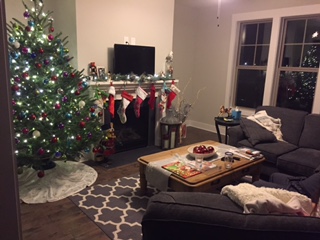 Tori's favorite part of the home, her living room, all decorated for the holidays!