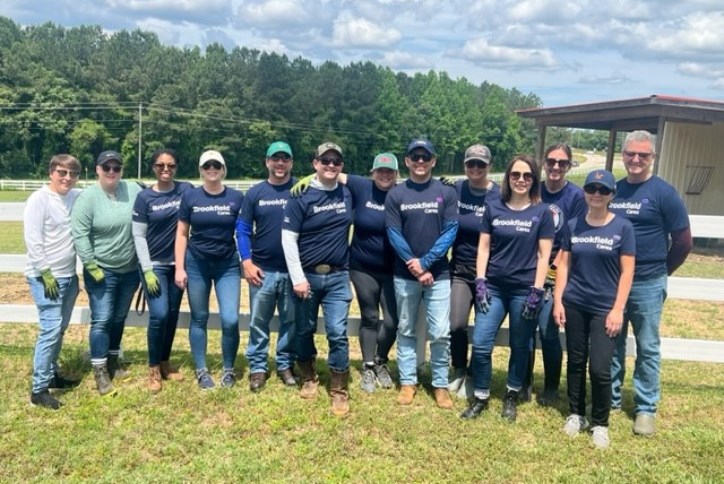 You're Invited! Helping Horse Summer BBQ Fundraiser
May is Mental Health Awareness Month, which inspired the Brookfield team to spend an afternoon volunteering at Helping Horse! Located just eight miles from Wendell Falls, Helping Horse is a nonprofit that offers therapeutic riding for people with a variety of physical, mental and emotional special needs. Founded in 1989 by a small group of horse lovers, this organization relies on volunteers and fundraisers, like the Annual Summer BBQ, to support their program and mission.
The riding program provides a therapeutic experience by combining riding skills with games and activities to enhance strength and balance while having fun. Students are matched with a horse, class and instructor based on experience level and individual needs and meet weekly for group or private lessons. The program lasts for 30 weeks and aims to improve communication, following directions, social skills, and building strategies for handling stress and boosting confidence.
Our team was able to help clear limbs, underbrush and debris from one of the sensory trails, making it safer and more comfortable for riders and the horses. We were also able to assist in beautification efforts as Helping Horse prepared for their annual Summer BBQ Fundraiser.
This event will take place on Saturday, June 10th 2023 from 4-8pm and is a great opportunity to spend a fun evening with family and friends while supporting Helping Horse. You'll get to relax and listen to live music under the big tent while enjoying a pulled pork dinner with all the fixin's, just how we like it in the south! There will also be a raffle, gift basket shop and lots of activities for the kids including pony rides, face painting and ice cream sundaes. Pulled pork dinners must be purchased in advance, which can be done here.
Proceeds will support operations and programming provided by Helping Horse, and will benefit a recently launched wellness program for Veterans and First Responders. To learn more about this nonprofit and other ways to help, visit helpinghorse.org