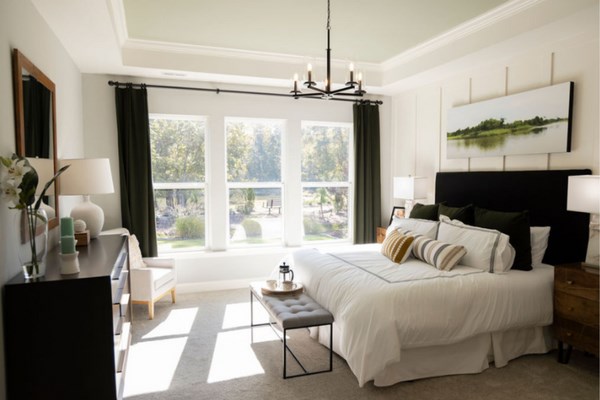 2023 Interior Design Trends
Our homes are where we spend most of our time and an extension of who we are. This year's interior design trends focus on creating spaces that authentically reflect the homeowner's style and will last for years to come. Here are the top interior design trends to look out for this year:
More colorful palettes
In 2023, we will see a shift from all-white and beige interiors to more colorful palettes, particularly warm colors, such as terracotta and burgundy. Adding more colors and patterns to your home will make the space feel cozier and add a personal touch. The Comfort model and Onwordi townhome by Garman Homes are great examples of this trend!
Earthy elements
This year, this biophilic trend from 2022 will continue to be seen throughout homes. Expect to see more earthy elements, such as raw, unfinished textures, organic shapes, mineral shades, natural surfaces and dark tone wood. View our award-winning Parade Homes to see this trend at Wendell Falls.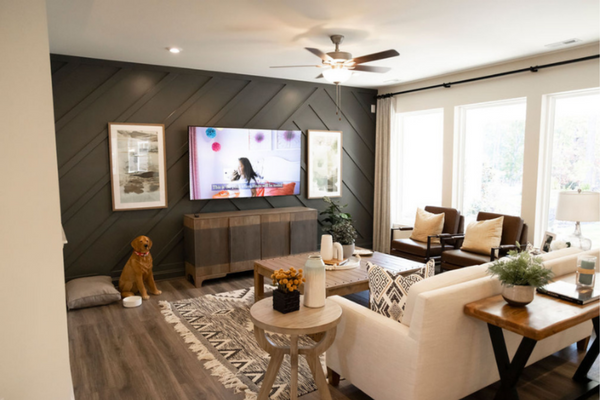 "Lived-in look"
Our homes are where we live, and no one wants to tip-toe around their own space. In 2023, we will see home interiors that reflect those who live there. This means bookshelves filled with items you actually use, furniture that corresponds with your lifestyle, art and décor that has personal meaning and organizational systems that work for your natural habits. The Wallridge model at Encore showcases this nicely.
Designed for you
Our homes have many purposes. They are where we gather, where we relax and where make memories. In 2023, home design that reflects the homeowner's lifestyle will continue to be a driving force for designers. 
Wendell Falls homes are designed with residents in mind with features such as open floor plans where friends and family can gather to spend time together, additional bedrooms to host guests, multipurpose rooms that can be used to enjoy hobbies and owner's retreats where you can relax and rejuvenate. 
Curved edges
As a continuation of the "earthy elements" theme, organic shapes and curved edges are being seen in interior design trends through crescent sofas, arched doorways, circular rugs and rounded chairs.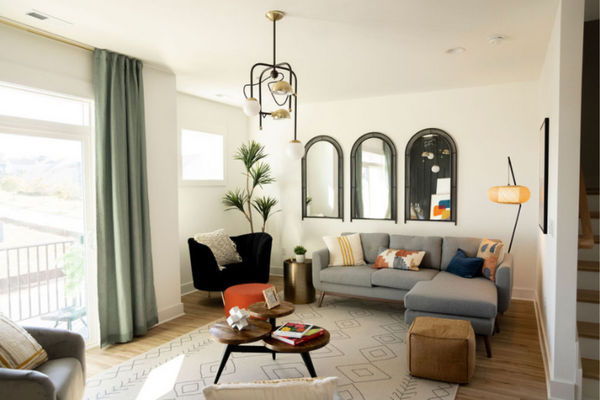 A mix of design styles
At the end of the day, no one fits perfectly into one "aesthetic." We all have different tastes and trying to force your home to be one "look" prevents the space from being your own. In 2023, we will see an increase in mixed design styles and individual expression. The Boone by Ashton Woods shows a mix of design styles that go together beautifully.
Personalized spaces
If you really want to make a house your own this year, consider customizing! Here at Wendell Falls, our semi-customizable homes offer upgraded features, special design details and the opportunity to add additional upgrades and personal touches.
Vintage and second-hand furniture and décor
As you curate your home, consider shopping second hand or recovering old pieces from family members. Vintage furniture tends to be of high quality and adding a few heirlooms or special finds to your space will make it more meaningful and interesting – plus it's more sustainable.
Handcrafted furniture
As trends continue to lean towards personal style, individuality and sustainability, people will select furniture handcrafted with quality materials over mass-produced furniture. This year, look for pieces that support local craftsman, are inimitable and will last a lifetime.
Intentional lighting
Lighting is arguably one of the most important aspects in a home because it sets the tone for the space. In 2023, opt for low lighting, such as accent lamps and soft-lit chandeliers, to create a cozy space, and open your shades to let in natural light.
Looking for a new home this year? Check out our available homes here or schedule an appointment to see them in person!
Wendell Falls is located just 15 miles from downtown Raleigh, North Carolina, one of the fastest-growing metro areas in the U.S. Explore artfully crafted new homes and townhomes from the mid $300,000s – $900,000s+.