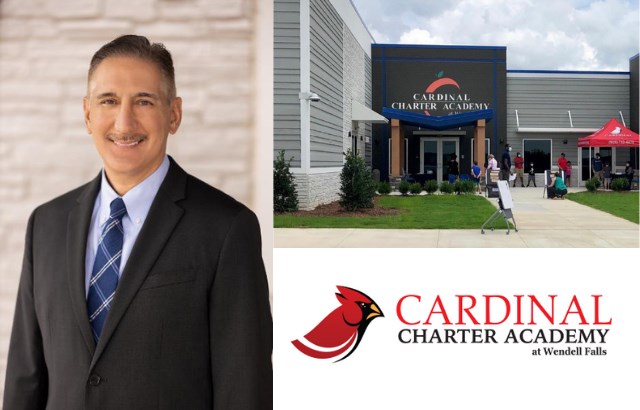 Community Spotlight: Cardinal Charter Academy welcomes Principal Frank Pistella
Frank Pistella has been in education for more than 30 years and has worked as a teacher, assistant principal and principal. He found his passion for K-8 learning when he converted a K-5 to one of the first K-8 schools in Florida and went on to work as a director of charter schools. Now, he will be joining the Wendell Falls community as the principal of Cardinal Charter Academy, Wendell Falls' tuition-free public charter school, and is excited to expand the school to K-8 in the 2022-2023 school year. 
Why are you excited about joining CCA?
I'm happy and proud of this staff that I've joined. I am excited to be a part of Charter Schools USA because of its excellent reputation of providing quality instruction and learning. 
What makes CCA special?
Down to the structure, CCA is based on collaborative learning. The school is divided into pods, and each pod has a village where teachers can create a collaborative education by planning together and having group instruction. There are also smaller classrooms that branch off each village to allow for small groups or one-on-one instruction when students need it. 
CCA has a student-centered approach. While CCA encourages collaboration, it ensures that students are challenged by the curriculum and do not fall behind by providing individual learning plans for each student. Students take summative assessments and formative assessments that teachers use to determine students' progress and what their goals should be for the next nine weeks, semester or school year.  
Another mission of CCA is that the instruction is technology enriched, including one-on-one devices for every student and online resources. An example of our online resources is i-Ready, a platform that provides reading and math instruction enhancement with built-in benchmark testing. 
What do you see for the future of CCA?
Our vision for the school is to provide quality instruction and learning. To continue to pursue this vision, the staff at CCA completed training to be a Kagan school this year. The teachers went through an intensive professional development program to master Kagan strategies that increase active student engagement. Research shows that students who actively engage in lessons have an increase in retention and achievement. The Kagan strategies provide the teachers with tools to engage the students throughout the day, such as having them work in pairs or groups. This will help achieve my goal for the school to maintain the highest-level instruction and student achievement without gaps. 
What are the expansion plans for CCA?
CCA has surpassed its enrollment goals with an outstanding turnout at its open house this year. There is currently a waitlist for future enrollment, and CCA is excited to grow to a K-8 next fall. More expansion and future enrollment details will be provided at the board meeting in September and reported on the CCA website.
Click here to learn more about CCA and to join the waitlist!
---
Wendell Falls is located just 15 miles from downtown Raleigh, North Carolina, one of the fastest-growing metro areas in the U.S. Explore artfully crafted new homes and townhomes from the upper $200,000s – $900,000s+.