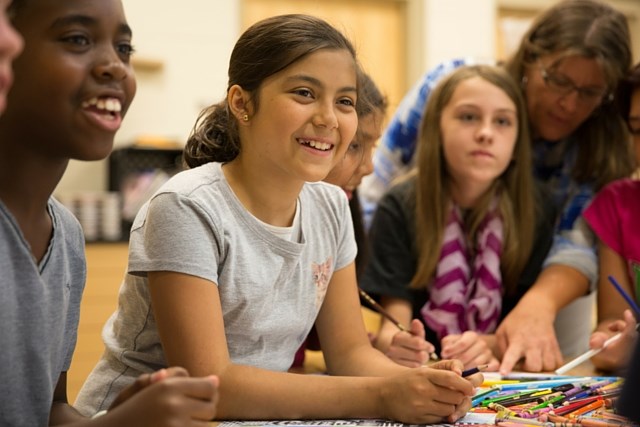 Cool Schools
Pencils? Check. Notebook? Check.
Fabulous school?
Triple check! Wendell Falls is part of the Wake County Public Schools System (WCPSS)—one of the fastest-growing and best-performing school systems in the nation. Our residents can choose from a plethora of tailored educational options – something for each child's style, goals and needs. Private, public and charter schools surround our community, offering state-of-the-art learning and creative programs that successfully prepare students for next steps after graduation.
Here are a few highlights that makes our schools so cool.
Lake Myra Elementary
Located on-site at Wendell Falls, Lake Myra is a Leader in Me School. Its educational philosophy stems from Stephen Covey's 7 Habits of Highly Effective People, empowering students with critical leadership and life skills. Lake Myra also is a North Carolina Arts in Action school, encouraging students to learn through creative exploration. In addition, students can explore personal growth within the school's Positive Behavior Interventions and Support (PBIS) systems that foster social and emotional success.
Wendell Creative Arts & Sciences Elementary School
As a Creative Arts and Sciences School, students enjoy stronger, faster learning by integrating the arts into curriculum. This school is also a Magnet School of America as well as only one of three A+ Network schools that partners with top-tier educators nationwide. More? Yup! Wendell Elementary holds the distinction as a Multiple Intelligences System (MIS) school, allowing students to explore their innate strengths beyond "book smarts."
Cardinal Charter Academy at Wendell Falls
As a rare 100-percent-accredited school, Cardinal Charter Academy at Wendell Falls offers robust course options and enrichment classes, such as arts, music, physical education, foreign languages and an integrated character education program. Cardinal Charter is a Cambridge International School, the first school east of Greensboro to be accepted into the program. Students also can enjoy advanced course opportunities and personalized learning plans.
East Wake Academy (K-12)
Aa a college preparatory school, East Wake Academy touts a rigorous curriculum that teaches "beyond the diploma" to prepare students for their next steps after high school. Along with some of the highest SAT and ACT scores in eastern Wake County, East Wake Academy students have secured coveted scholarships and acceptance letters from all North Carolina public universities and numerous private institutions across the East Coast. The other plus? Innovative facilities, small class sizes and premiere staff – 98 percent with North Carolina teacher certifications.
Wendell Middle School
New tools for fresh learning with robotics and electronics! At Wendell Middle School, students conceptualize, program and build products in the digital space. Through the Bring Your Own Device (BYOD) program, WMS encourages students to use their personal electronic devices to increase access to technology and assist learning. Students enjoy a broad arts program and learn proactive emotional, social and critical skills to navigate change through the school's Positive Behavior Interventions and Supports (PBIS) system.
Neuse River Middle School
Neuse River Middle is opening a new state-of-the-art school with a brand-new name and a brand-new mascot by 2021. As a 1:1 school, every student is provided with their own electronic device to boost retention and critical thinking through real-time application and collaboration. Students work in teams at tables to assess challenges, assign responsibilities, think critically, communicate effectively and deliver solutions to problems.
East Wake High School
Careers on the horizon! East Wake's Career and Technology Education (CTE) program prepares students for a range of high-wage, high-skill careers through cutting-edge, rigorous and relevant career courses. Through partnerships with local colleges and employment hubs, students develop the most desirable job market skills, while simultaneously designing products in the school's own mechanic shop, landscaping center and print graphics lab. Students thrive in the school's Project Lead the Way technology-based STEM program. Add in a robust Advanced Placement course offering and virtual enterprise international class, and your high schooler will be positioned for post-graduation success.
That's not all. Want to learn more about these schools? See which is right for your child!
---
Wendell Falls is located just 15 miles from downtown Raleigh, North Carolina, one of the fastest-growing metro areas in the U.S. Explore artfully crafted new homes and townhomes from the $220,000s – $600,000s+.