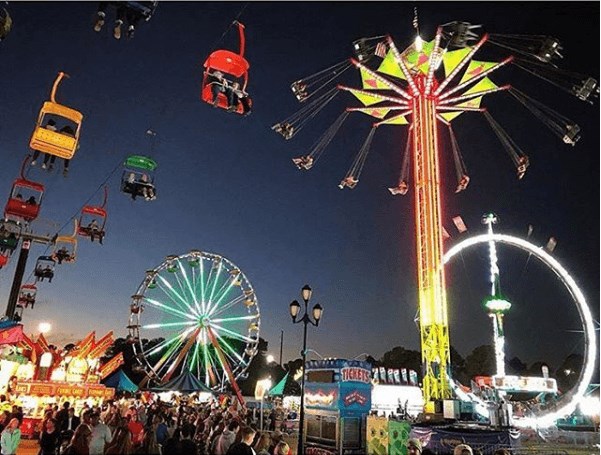 North Carolina State Fair 2018
Emily Fussell
Customer Relations Coordinator
Dates: October 11-21
For as long as I can remember, I've never missed visiting the NC State Fair at least once (if not more) a year when it comes to town. As a kid it was magical place where I could play endless games, eat myself sick, see the pig races, and watch the big kids on the scary rides. The goal was always, of course, to win a goldfish. As a teenager it was the place to socialize, ride rides, and find a hand to hold on the Ferris wheel during the fireworks. The sounds of screams, scent of fried food, and yelling carnies was sooo romantic – but really I always thought it was going to be like the scene in The Notebook. As an adult I still enjoy all of these things, but also have an appreciation for the handmade crafts in the Village of Yesteryear, a cold beverage at Our State Public House, the art and photography exhibits in the Scott Building, and trying new and "exotic" foods. No matter your age, there is something for everyone to enjoy at the NC State Fair. Check out my list of 'Must See' Entertainment:
The Canine Stars - Watch man's best furry friend competing in extreme canine sports – dock diving, agility, freestyle Frisbee and more!
Paul Bunyan Lumberjack Show- See the men in plaid showcasing their skills. They'll use chainsaws, axes, and logs to make you laugh and keep you on the edge of your seat.
Circle "C" Racing Pigs - This classic go-to entertainment is always a treat and a good laugh. Race for the cheese doodle!
Laser Light Show/Fireworks - Laser Light show over the pond near gate 8, starting at 7 every night. Then the fireworks, best viewed from the Ferris Wheel, start at 9:45 to close out the daily entertainment.
For more information: http://www.ncstatefair.org/
Photo Credit: https://www.instagram.com/p/BadHyNCggvQ/?taken-by=ncstatefair