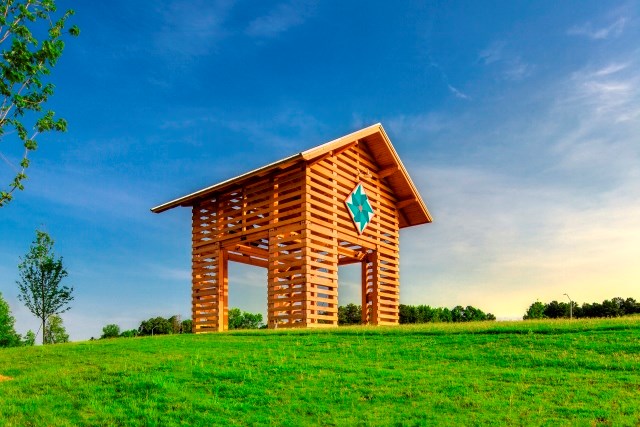 Wendell Falls Partners with Mayor to Revamp and Refresh Wendell
Cherith Andes
Clairemont Communications 
WENDELL, N.C. – April 3, 2018 – Wendell Falls, the largest green-built master-planned community in the Triangle, is teaming up with the Wendell Mayor Virginia Gray to debut "Wendell Falls (Re)Cycles," a community clean-up festivity in conjunction with Earth Day. Hosted on April 21, 2018, the event invites participants to join a trash collection and recycling effort as well as to donate used bicycles to be featured in a community art project.
"Our mission is to create a sustainable community that fosters environmental stewardship and social responsibility," said Hunter Matthews, marketing manager, Wendell Falls. "Wendell Falls (Re)Cycles will be an opportunity for Wendell residents to enjoy camaraderie, take an active role in our town's wellbeing and invest in the community's legacy."
Wendell Falls Re(Cycles) invites citizens across eastern Wake County to join Mayor Gray from 9 a.m. to noon on April 21 at the Wendell Falls Farmhouse. Once divided into teams, participants will be challenged to a light-hearted scavenger hunt to collect and recycle trash across trails, roads and parks near Wendell Falls. Participants will receive snacks, treats and goody bags.
During the event, participants may donate used bicycles at the Farmhouse to be featured as a 3D element in an upcoming community art project. Designed by a local artist, this large-scale, multi-medium mural will celebrate the character and spirit of Wendell and will be displayed the new Cruizers convenience store at Wendell Falls.
"Wendell Falls (Re)Cycles enables our entire community to pursue a common goal, improve and play a key role in the future of Wendell," said Virginia Gray, mayor, Town of Wendell. "Wendell Falls is dedicated to the long-term sustainability of Wendell, making them a strong partner in our own passion to foster responsible, engaged citizens."
Wendell Falls (Re)Cycles is a part of One Newland, a movement of similar projects throughout numerous Newland communities across the nation that share a vision to create fully inspired, socially responsible communities. For more information about Wendell Falls or the Wendell Falls (Re)Cycles event, visit www.wendellfalls.com or call 919-374-2105.


About Wendell Falls
Wendell Falls, a new-home community in Wendell, N.C., combines small town community with big city urbanity. Different by design, Wendell Falls offers the walkability and cultural hotspots of downtown living with its 2 million square feet of current and planned shopping, dining and entertainment. The community beckons families to celebrate play and fresh air across 237 acres of parks and open space, 10 miles of trails and pathways, an outdoor pool and pier and future access to North Carolina's Mountain-to-Sea Trail. Brimming with events, Wendell Falls celebrates inclusivity, creativity and a broad, hopeful perspective. The Wendell Falls information center is located at 320 Vintage Point Lane, Wendell, NC 27591.