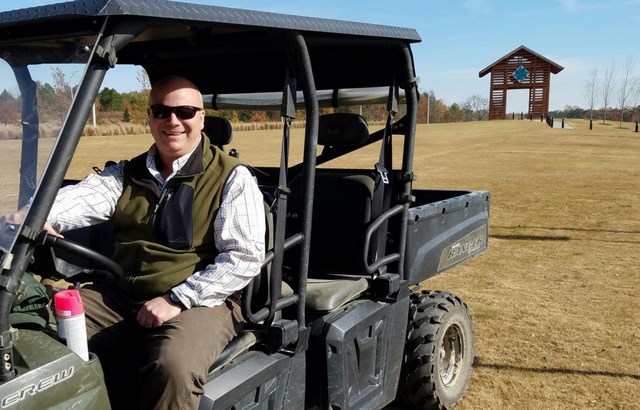 Ask the Construction Manager
Elyse Phillips (Customer Relations): Tell us about how you ended up working here at Newland Communities.

Steven Jackson (Construction Manager): I grew up in Belmont, NC, just west of Charlotte, and attended UNC Chapel Hill after high school. Upon graduation in 1996, I was commissioned as a 2nd Lieutenant in the United States Marine Corps. After just under 9 years in the Marine Corps, I decided to end my active service, and entered the homebuilding field as a Construction Manager, starting in 2005.After graduate school I went back to work in the homebuilding industry in the Charlotte market, then joined Newland, and the Wendell Falls team, in September of 2014.
EP: What do you love most about your job?

SJ: The majority of my work involves planning, estimating, scheduling, and managing the construction of the entire community. This includes bigger tasks, like constructing the lots, roads, sewer and water infrastructure, etc. and smaller, detailed projects, like street signs, mailboxes, parks, and landscape areas. My greatest satisfaction is to take all of those tasks, plan them, leverage those relationships I have with the contractor team to execute them, and then at the end, when it's all complete, look out and see tangible results of mine and their efforts in a finished community, with attractive streetscapes, and happy homeowners—there's a huge sense of accomplishment. I can honestly say that I love my job.
EP: Describe a "typical day" at Wendell Falls:

SJ: Arrive at the office between 7:15-7:30, check any emails that came in late the day before, or earlier in the morning, and then check my schedule and task list for the day. Most days involve the same types of tasks, but the chaotic nature of construction activity changes the times in which I do them, from day-to-day, so time management and prioritizing tasks are paramount in how I schedule my day. I usually have some sort of forward planning to do, construction contracts to create or administer, site visits out in the field to check on our construction efforts, or meet with the construction managers of the homebuilding team to see any issues they're having. I create new or manage existing construction schedules, estimate costs for future construction work, manage the construction budgets, review construction plans—all things I do on an almost daily basis. There are usually a few meetings to attend as well. At whatever time I can manage, I grab a quick lunch, typically on site, and try to wrap everything up so I can leave around 5:30 PM each day.
EP: How is Wendell Falls committed to land preservation?

SJ: There are a number of techniques we use to preserve land. The first, and most straightforward, is just saving it. Contrary to popular belief, we only develop the minimum amount of land we need to build the planned lots for a phase. There is a multitude of considerations that go into how much land we clear for development, but we realize that trees and natural spaces are highly desirable, and we attempt to preserve as much as possible. Second, we preserve land by increasing the density of our development. While for some, the high-density, closely-spaced homes appear contrary to a more rural development aesthetic, if we can decrease the amount of land required for a fixed number of home sites, we have the ability to preserve land for parks, open spaces, trails, and natural areas. The concept then becomes one of "you don't need a big back yard because you have an even bigger park across the street".
EP: We use the phrase "intentional design" a lot here at Wendell Falls. What exactly does that mean?

SJ: We obsess over every square foot of this project during the design phase, and reevaluate time and time again during construction. There are myriad different considerations that go into the process. How can we work with the existing topography to minimize how we change it? How do we mix lot-types and open spaces to create attractive streetscapes and compatible uses? We look at how home sites will interact with their surroundings—from details like how far will homeowners have to walk to their mailbox to how traffic patterns around the project will flow. Who will use this park and what amenities will they expect to be there? I probably can't come close to articulating how much time and effort goes into planning each phase. But, even after we've finished constructing what we had planned, we go back and reevaluate what we can do better—do we need to change something to make it better, or is there something we can carry forward to help us better develop the next phase? It's a continuous process and something we strive to achieve in each new or existing part of the community.