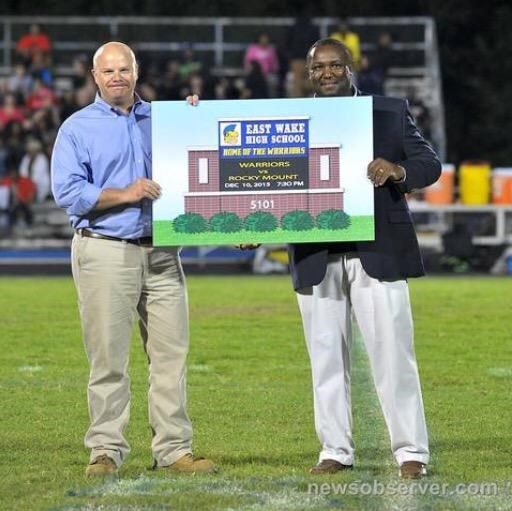 Getting Educated at East Wake High
Dianne Fuller & Amy Kingrea
 Newland Communities
What a way to start your morning by touring East Wake High School with Principal Stacey Alston and several amazing students!  Our tour was most informative with presentations given by students of East Wake Middle School and, East Wake High School plus, a mini performance by their choir which by-the-way received multiple honors.  What a treat! 
We learned in 2015, the 4 high schools on Eastern Wake's campus combined.  The previous high schools had specialties, such as Engineering, Health Services, and Fine Arts.  The combination has brought all of these schools and specialties together, but kept the classes that made each of the High Schools unique.
East Wake High offers classes and programs such as Intro to Engineering and Design, Health Services, Fine Arts, and hands on trade classes, such as Automotive Technology and Construction. These classes give students a jump start in their collegiate career, as well as help them hone in on particular interests. In addition to classroom time, numerous academic clubs are offered and encouraged.  All of the clubs are engaged in community outreach and participate in various competitions and meetings around the state.  Science Olympiad, FFA, Project Lead the Way (PLTW) and Engineering club are among a few of the clubs offered. 
East Wake High School is working toward becoming a STEM certified school.  There is a dedicated STEM Coordinator and heavy emphasis on Science, Technology, Engineering and Math. The school is working on partnering with different universities to bring in experts to work with Students.  It was just announced that Doctors from Duke will be coming in on weekends to work alongside students who are interested in the medical fields.
East Wake also offers an incredible and well-respected athletics program for those students who enjoy sports. Their football team even went to the State Playoffs in 2014—now that's something to talk about!
Overall, these students are incredible and are passionate with embracing their education along with community involvement.  Wendell Falls is proud to partner with our future leaders whom strive to make a difference! We had such a great time touring and learning about the school, and we can't wait to go back!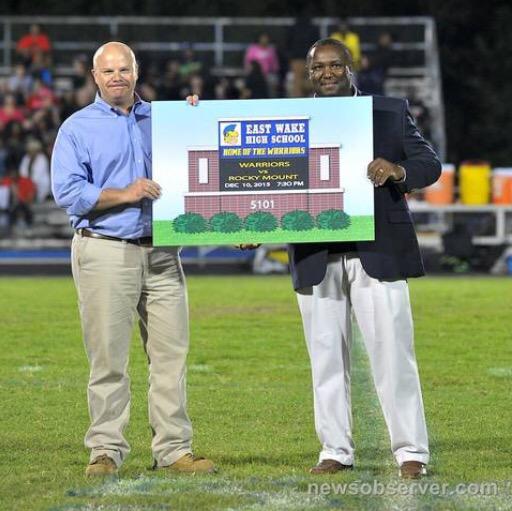 Steven Jackson, our Construction Manager, presenting Stacey Alston and East Wake High with the news that Newland and our Builder Team will be donating a brand new sign for their campus!