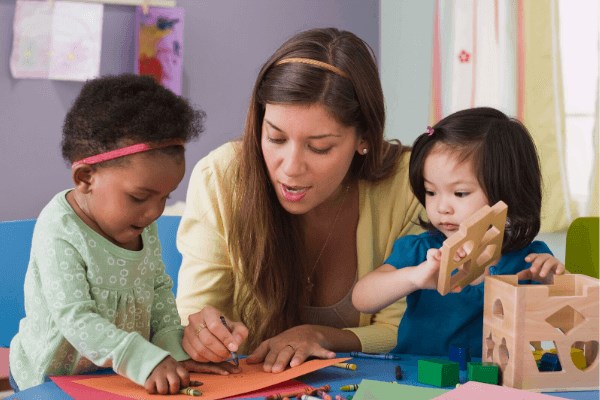 Commercial Spotlight: KinderCare at Wendell Falls
It's a hub where learning meets play. Where friendships are formed, skills are developed and fun is the norm.
KinderCare at Wendell Falls opened its doors in 2019 to bring one of the country's most acclaimed daycare experiences to our corner of the Triangle. Located on-site at Wendell Falls, KinderCare offers programs for infants through age five as well as before- and after-school care for students through age 12.
But this is no ordinary daycare. Students are known to skip into a class where teachers know each child by name (and name of their dogs, too); previously shy little ones eagerly explore learning-rich environments brimming with opportunities for creative play and connection.
What makes KinderCare such a beloved institution?
Perhaps it's the highly impactful curriculum that includes STEM-style learning, encourages craftiness and welcomes play at every turn. Each classroom features designated learning centers for dramatic play, interactive elements like blocks and a print-rich environment of charts, labels and literature to encourage word association and develop early literacy skills. Not only does KinderCare concentrate on language and literacy development, it invests in your child's social and emotional development, executive function (like persistence and attention), cognitive development and physical wellness. Oh, and creativity through lots of chances for exploration.
Or perhaps KinderCare's winning feature is its small class sizes that allow for intentional connection and one-on-one attention. Teachers invest in each child and welcome parents into the developmental process through programs that continue the learning streak at home.
Or maybe it's the wholesome meals and satisfying snacks that KinderCare develops in tandem with registered dietitians to meet federal and state requirements and guidelines, established by the United States Department of Agriculture (USDA).  Healthy + tasty = happy kiddos and parents.
Best yet, KinderCare is just a short drive from your own front door in Wendell Falls. Explore what could be the next step in your child's bright future! And then take a gander at our show-stopping, eye-popping new homes – just waiting for you and your family at Wendell Falls.
---
Wendell Falls is located just 15 miles from downtown Raleigh, North Carolina, one of the fastest-growing metro areas in the U.S. Explore artfully crafted new homes and townhomes from the $220,000s – $600,000s+.