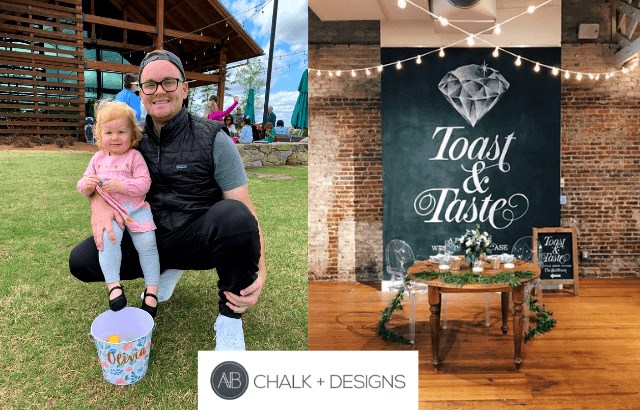 Wendell Falls Resident Entrepreneur: AB Chalk + Designs
What is your business? 
AB Chalk + Designs consists of hand-lettering and artwork for weddings, events, etc. around the Triangle area. Most of my work is large, installation pieces at venues such as The Stockroom at 230, The Cookery, and The Rickhouse. 
How/Why did you get started? 
Business started sort of on accident, as my wife wanted a custom chalkboard for our wedding back in 2013. That snowballed into friends and family wanting custom signage, followed by a great opportunity once The Stockroom at 230 installed a large chalkboard wall for their wedding and event space. After working there a handful of times, I was able to become one of their preferred vendors/artists. 
What made you choose Wendell Falls? 
My wife and I moved out to Wendell Falls in late 2016. My in-laws built out here and "wanted us to come check it out", so we did. We honestly didn't plan to move, but when we saw the community we fell in love. We moved into a Garman parade home shortly after that! The sense of community was a key selling point for us. 
How has living as Wendell Falls benefited you or your business? 
Wendell Falls was advantageous to my business in partnership with Grounds Cafe. For the past year or so, I've been able to do custom signage for them, from weekly beer offerings, menus, and anything else that was needed. The time and work put in at Grounds will always be special to me. 
What advice would you give to someone trying to become an entrepreneur? 
My advice to those considering taking the next step into becoming an entrepreneur would be simple: commit. AB Chalk + Design is not my full time job, but it very well could be. Side hustles are exactly that: a hustle. You get out what you put into it. Find your passion and dive in head first. Do something you truly love. Lastly, I would recommend another simple concept: listen. Listen to what the market needs, what your clients need, and those closest to you.