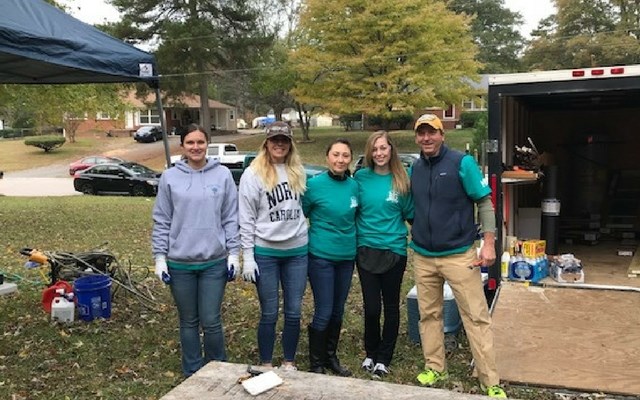 Wendell Falls and The Big Give Back
Cali Buhrman
Marketing Coordinator
With the holiday season quickly approaching, I always get a feeling of gratitude for all I have, because so many stories come out about those in need – right in our backyard! This is why our partnership with the Home Builders Association and Rebuilding Together are so important – with these organizations, we have so many ways of helping out!
Wendell Falls and Briar Chapel teams participated in the "Big Give Back" earlier this month, where one family is chosen to receive much needed renovations and upgrades in their homes. We had the honor of helping Ms. Ingram, who lives in Wake County and tragically lost both of her sons and is raising a grandchild on her own. She is also a veteran – and a sweet, hardworking woman who radiated positivity wherever she went. She was so excited to have us help, that she preemptively invited her family over for Thanksgiving dinner this year – the first time she has done that in years!
We were able to replace Ms. Ingram's floor in the kitchen and bathrooms, replace windows and doors to more energy efficient ones, and did a ton of landscaping work, so her yard is free of thorns and haggard limbs now! It was so heartwarming seeing how happy she was, and a lot of fun connecting with other people in the industry and finding out our skill sets outside of the office.  (Note: Our Project Manager, Tanya, is little but fierce! She uprooted ceramic tile like the Girl Boss she is!)
Wendell Falls and Newland Communities would like to thank the wonderful people of Rebuilding Together and the HBA for organizing this fun, feel-good event and we cannot wait for the next one. Check out some pictures below!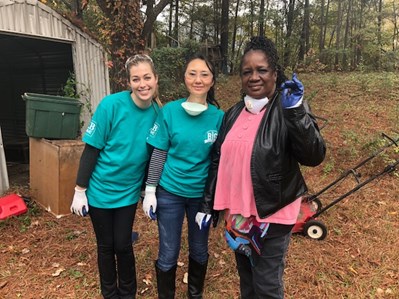 Jessica and Tanya with Ms. Ingram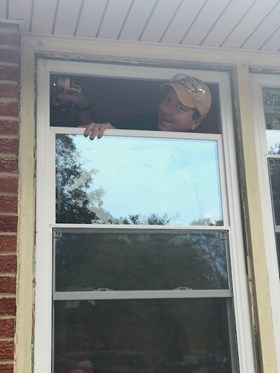 Hi Jody, we see you!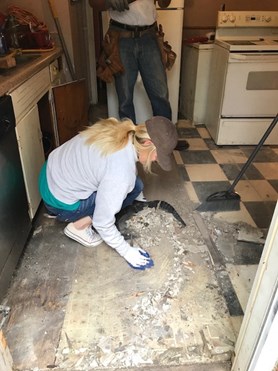 Cali helping replace flooring in the kitchen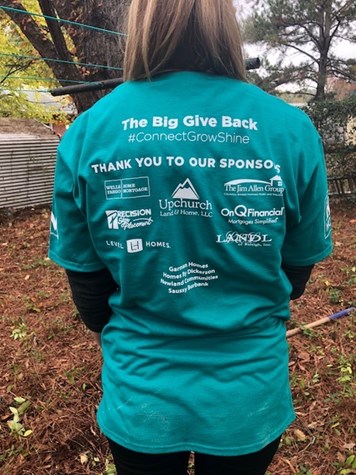 Our t-shirts, with Newland Communities as a sponsor!