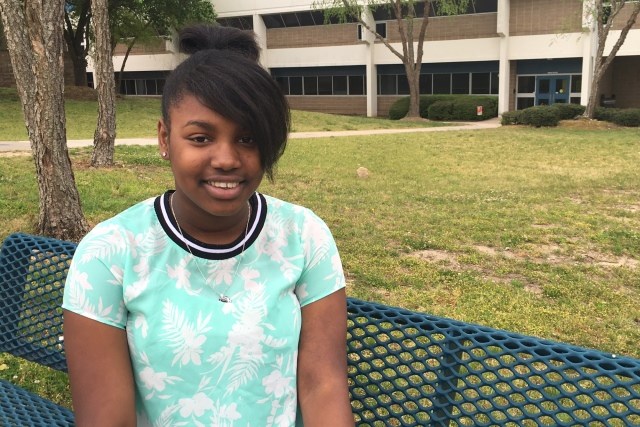 Beyond the Books : Raven
East Wake Middle School
Peer Mediation
Raven is your go-to gal. She's an excellent listener, an encouraging friend and a strong problem solver — all skills she learned by going through peer mediation at East Wake Middle School. 


The peer mediation program at East Wake Middle provides a new take on problem solving. When conflicts develop between classmates, students like Raven can refer friends or themselves to get assistance from peer mediators, two of several designated peers who have been trained to resolve conflict. Through skills like active listening and impartial liaising, peer mediators encourage the parties to talk through their issue and share their viewpoints. 


"The program has had a definite impact on our student body," said Pauline Hardy-Evans, seventh grade counselor, East Wake Middle. "We've watched students begin to take responsibility for their relationships, learn to be self advocates and develop strong social maturity through peer mediation."


The welcoming, nonthreatening presence of a peer allows students to express their thoughts and develop critical social and relational skills, like articulating points of view respectfully and learning to actively listen. Peer mediators then help the students develop at least three possible solutions to the conflict and agree to pursue one.
"Our classmates can understand more about our problems, because they're on our level and think like us," said Raven. "I feel like my concerns are being heard, and I feel comfortable enough to share my point of view."


When Raven fell into an argument with a classmate, she requested some time with the peer mediators. Her positive experience instilled new lessons, such as how to avoid similar situations and plans for better resolving conflict in the future on her own. And with the assistance and support of the peer mediators, she was able to repair a broken relationship and build self-esteem.
Just one of the many ways that East Wake Middle develops the next generation of well-rounded citizens!