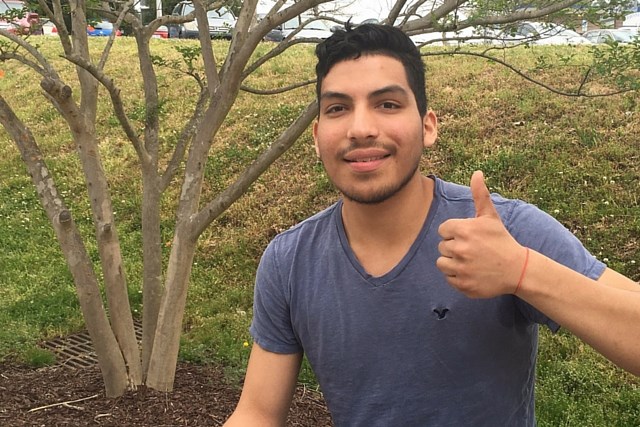 Beyond the Books : Luis
East Wake High School
Luis Subia, 10th Grade
A New Plan, A Big Future
Luis, a sophomore at East Wake High, embodies determination, tenacity and a whole lot of gumption. Like a ship without a rudder, his curiosity and energy occasionally tipped him astray and landed him in trouble in school. But things took a turn for Luis when he joined Men of Excellence, a male mentorship program at East Wake High designed to reach the heart of teenage boys and develop character.
In Men of Excellence, a team of male mentors and leaders in the community explored topics with East Wake High's students, ranging from time management to conflict resolution. Luis learned critical career skills, like how to research and prepare for a job interview, as well as valuable life skills, such as how to diffuse a fight and mediate conflict. Program members forged unexpected and meaningful friendships and held each other accountable to personal goals.
But Luis' biggest lesson from Men of Excellence yielded a long-term impact; it changed his life dreams.
"My grandmother has a heart condition," said Luis. "I've always wanted to find a way to help but could never quite figure out how to make that happen."
His mentors in Men of Excellence taught Luis how to craft large plans and then break them into small, actionable steps. Once Luis saw the efficacy of this method, new plans unfolded. Luis realized that he wanted to become a cardiologist – a distant dream for a young high school student – and with the encouragement of his mentors, Luis has developed a path to achieve this dream.
"My mentors in Men of Excellence taught me that if you want something badly enough, you can achieve it," said Luis. "And they showed me how."