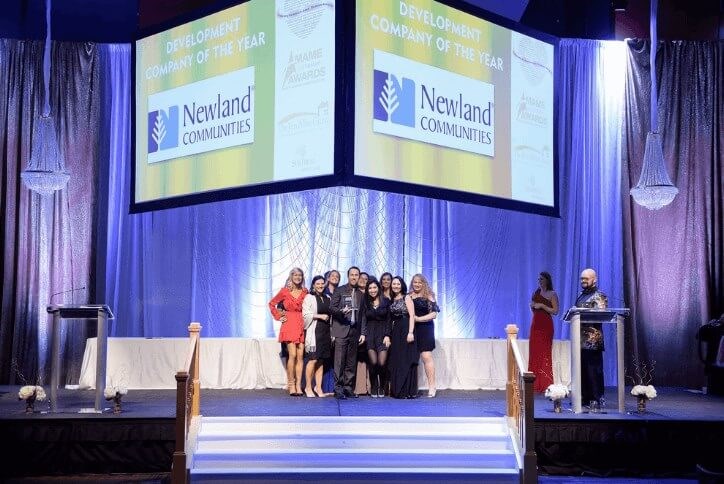 Newland Named Developer Of The Year By Home Builders Association Of The Triangle
Home Builders Association of the Triangle (Raleigh-Wake and Durham, Orange, Chatham) has awarded Newland Developer of the Year at the 2019 MAME Awards. This prestigious awards competition recognizes the exemplary efforts of homebuilders and land developers, remodelers, real estate agents, and associates in the local home building industry.
Over Five Decades of Mixed-Use Development
Newland is committed to creating livable and sustainable developments for future generations to enjoy. Continually focused on refining the approach, Newland adapts to the changing needs of the families within our communities, the changing markets, our environment, as well as the unique influence of the local marketplace. Our communities build in lifestyle amenities such as trails, fitness centers, neighborhood centers, parks, schools, and much more. You'll find greater walkability and a fresh blend of urban and suburban amenities, all with a strong connection between home, work, shop, and play.
Award-Winning Community Development
Our collaborative, disciplined approach to creating these more complete communities where people can connect, get inspired, and thrive, is what sets Newland apart. A testament to this is the Newland community, Wendell Falls, who also took home four MAME awards. Wendell Falls in Raleigh, NC, has a small-town community vibe mixed with big-city urbanity. Wendell Falls offers the walkability of downtown living with great places to shop, eat, and hang out. It also provides 237 acres of parks and wide open space, 10 miles of trails and pathways, an outdoor pool, fitness facility, a neighborhood café, and even more to come.
Another Newland area community, Briar Chapel, also was recognized with a 2019 MAME award. Briar Chapel, located in Chapel Hill, NC, (within the Raleigh-Durham Market) has been one of our biggest trails blazers to date. This community was one of the first (and largest) green communities located in the Triangle, offering a respectful, sustainable way of life with its NAHB-certified green homes and 900 acres of preserved open space. The neighborhood provides the residents with 20+ protected parks, 24 miles of trails and Veranda, on-site schools, a community college, a resort-style pool, shopping, dining, and a retail hotspot. It's this type of inviting and connected lifestyle that continues to earn Briar Chapel awards such as Best Neighborhood in Chapel Hill year after year.
Continue reading about all of Newland accolades and Newland communities at the Home Builders Association's 2019 Major Achievements and Marketing Excellence (MAME) Awards on the Wendell Falls and Briar Chapel news pages.
See original article from Newland's website here
Contact Us
Please click below to contact our team and we will be happy to answer any questions you have!
Contact Us
Categories