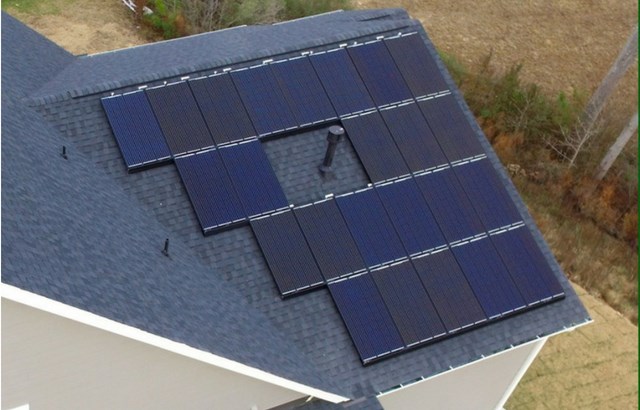 It's Time For A Tesla... Powerwall, That Is
Published in Wake Living Magazine: Summer 2018
Article by: Sue Anger
Although he's known for his rockets and cars, Elon Musk's Tesla Company is having a big impact on Wake County in a whole new way. A new house built by Homes By Dickerson in Wendell Falls is propelling energy sustainability into the rocket age. The energy-efficient home captures electricity generated by solar panels and stores it in a new battery pack called the Tesla Power-wall. The result has been so successful that nearly 100 percent of the energy needs of the home are being generated and stored! In the past, solar power has typically contributed 60 to 80 percent of home electrical usage. So, this new "zero net" usage is remarkable. Proponents insist these high results can only be achieved through the synergetic blend of an energy-efficient home working in tandem with the solar panels and the Tesla Powerwall. IT'S
ALL IN THE APP
Graham Alexander, Residential Solar Specialist for Southern Energy Management, explains that the low maintenance of the Tesla Powerwall is a game changer. "We've been working with solar for almost twenty years, but the idea of having a hands-free, maintenance-free storage solution like the Tesla Powerwall is a revolutionary solution that's occurred within the last twelve months. Previous storage battery solutions have been for only the most dedicated environmentalists. These previous battery systems were hands-on and required annual maintenance and had a lifespan of five to seven years. The Telsa product has a web app and allows the homeowner and the installer to see what's going on at any point in time." With the app updating every five minutes, homeowners can monitor the solar production and energy use in their home in real time. This teaches them how to operate their homes more efficiently, and there's no need for annual inspections since everything is done remotely.
THE RIGHT TECHNOLOGY WITH THE RIGHT PHILOSOPHY
All this new technology coincides with the philosophy of Newland Communities in Raleigh, the development company behind Wendell Falls. Mike Scisciani, VP of Operations, explains the company's priorities. "We're very committed to sustainability throughout all our communities based on how we develop the land plan, the practices we put in place from an engineering stand point, and the builders we select, like Homes By Dickerson. We are really excited to see the Tesla Powerwall and the zero net home at Wendell Falls: it really takes energy sustainability to a new level."
THE BANKABLE EDGE
While other companies are also entering this market, Tesla is proving that it's more than just a pretty name. "Tesla certainly has the biggest name recognition, and they're the biggest promoter," says Graham Alexander. "And it's a company we believe will stand by their product if something happens to go wrong. So, Tesla's going to have some of the higher efficiency as well as being bankable. We believe in the long run, that they will support their products."
To see original article, click here.
Contact Us
Please click below to contact our team and we will be happy to answer any questions you have!
Contact Us
Categories