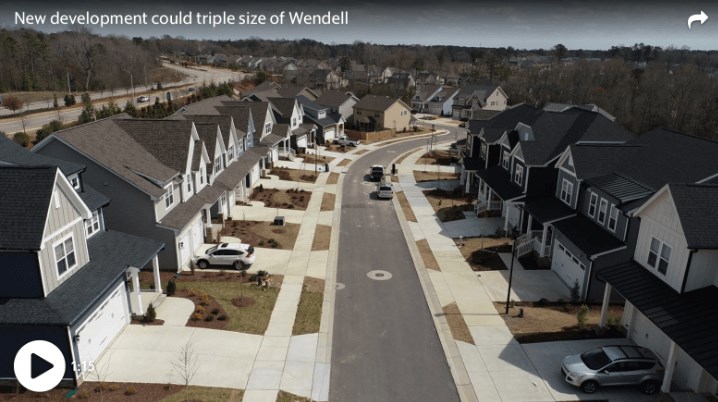 Looming New Community Could Triple Size of Wendell
Craig Jarvis
News & Observer
March 30, 2018
The largest master-planned community in the Triangle is taking shape in eastern Wake County, where 4,000 homes are being spread across 1,100 acres and groundbreaking has begun on 2 million square feet of retail space.

Wendell Falls is positioned for an eastward shift in housing patterns at a time when much of the building activity has been to the west, and by offering commercial space that is less expensive than downtown Raleigh or North Hills.

Its developers are now promoting the commercial phase — with the ability to eventually accommodate up to 6 million square feet — as ideal for a retail hub or even for a corporate headquarters of the scope of an Amazon HQ2.
The development could triple the size of Wendell, with its current population of nearly 7,000 people, and will have a major impact on that region's future growth. Wendell Mayor Virginia Gray said the development has already brought a number of other projects to life, including some that have been dormant since the recession, and has drawn visitors considering living in the country.

"It's shining a light on Wendell that we would not be getting otherwise," Gray said in a recent interview. "It's putting a positive light on eastern Wake County. It's kind of like a little secret but the secret is getting out."
The development is nestled against the U.S. 64/264 bypass interchange with Wendell Falls Parkway, a short connection to I-540 and the Raleigh-Durham International Airport, and is 15 miles from downtown Raleigh.
People have been moving in over the past three years as more houses have been built. About 350 to 400 single-family homes have been built so far. Prices range from the $190,000s to the $600,000s.
The development is centered around a cafe, fitness center and gathering place called The Farmhouse. Nearby, are a swimming pool, pond, fishing pier, outdoor pavilion, 237 acres of parks and open space and 10 miles of trails.
Housing shifts eastward
Newland Communities, a large San Diego-based real estate company, bought the land in 2013 for $34 million after a previous developer defaulted on a $67.6 million loan in 2009, on the heels of the recession. Newland anticipated the eastward housing shift.
"The western side of the Triangle is so built out. The number of single-family homes up and down the (NC) 55 corridor is just massive," Dan Klausner, director of commercial real estate for Newland, said. "We looked at it like an opportunity on the east side. It's not close to RTP, but guess what? Everybody doesn't work in RTP."
Newland anticipates it will take a decade to complete. The company's sister project is the 1,600-acre Briar Chapel in Chatham County, which has 2,400 single-family homes, 900 acres of open space, 24 miles of trails and up to 500,000 square feet of commercial space. It will also be home to a health and sciences facility from Central Carolina Community College that is anticipated to open this year. It is about 60 percent built out, the company reports.
Commercial tenants named
Newland is busy lining up prospective commercial tenants at Wendell Falls, including a supermarket, and has announced the first three agreements signed: Cruizers, an upscale convenience store with outdoor tables, bicycle station and a watering hole for dogs; a daycare, and a county fire and emergency medical services station.
Medical facilities, dry cleaners, hotel and restaurants are also possibilities, the company says.
"It's just trying to build a little bit of a different atmosphere than people have seen in other places," Klausner said. 
Newland hopes Wendell Falls will appeal to baby boomers and millennials. He said diversity of all kinds is important to the company, and its two Triangle communities are built around that goal.
"People don't seek out to be around people exactly like them," Klausner said. "They're very intrigued by meeting new people and learning new things."
CBRE-Raleigh is marketing the property and consulting on commercial components for both of the communities. 
To see the original article,    click here. 
Contact Us
Please click below to contact our team and we will be happy to answer any questions you have!
Contact Us
Categories