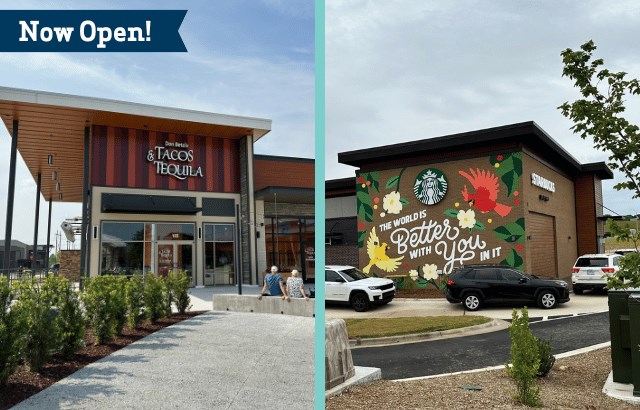 Starbucks and Don Beto's Now Open at Treelight Square!
One of the most anticipated parts of Treelight Square is the wide variety of dining options that residents of Wendell Falls will have right outside their door. We're excited to announce that two of these restaurants are officially open at Treelight Square: Don Beto's Tacos & Tequila and Starbucks!
Don Beto's Tacos & Tequila was one of the first restaurants to join the Treelight Square lineup and opened in May. Don Beto's is a taqueria offering authentic street tacos, along with a tequila tasting cantina in a vibrant, open space. The interior design is beautifully finished with colorful walls, unique lighting and hand painted murals that instantly make you feel warm and welcome. Don Beto's is open for lunch and dinner and you can view the menu here.
For the coffee and tea lovers out there, you'll be happy to hear that the new Starbucks is now open, located on Taylor Road. With a modern design, two-lane drive through and dedicated space for mobile order pick-up, grabbing a morning cup of joe is more convenient than ever. Make sure to get a selfie with the mural by @chalkandbrush and remember to tag us on @wendellfallsnc and @dellthepig!
There's more shopping, dining and services coming to Treelight Square in the coming months. See the full list of businesses here.
Contact Us
Please click below to contact our team and we will be happy to answer any questions you have!
Contact Us
Categories