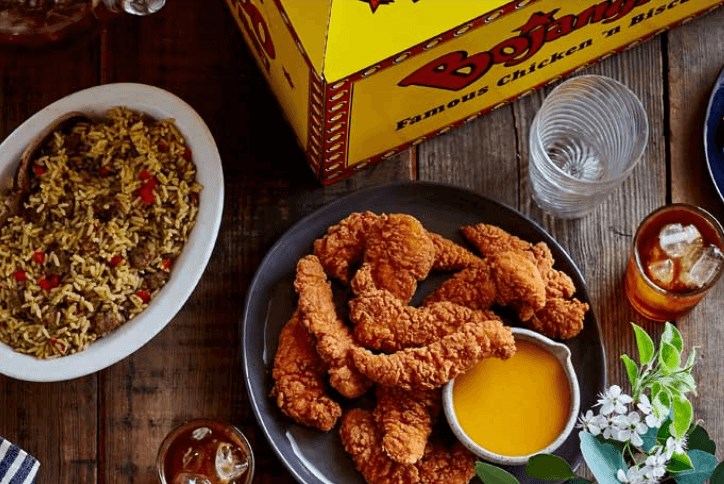 Wendell Falls to Debut Community's First Quick Service Restaurant with Bojangles
Wendell Falls to Debut Community's First Quick Service Restaurant with Bojangles
WENDELL, N.C. – April 10, 2021 – Wendell Falls, one of the largest master-planned communities in the Triangle, is bringing Bojangles Famous Chicken and Biscuits, Bo-Berry Biscuit®, Legendary Iced Tea® and the full menu of the beloved North Carolina-born franchise to the Wendell community.   
Planned for opening in the second quarter of 2022, Bojangles will be located at the corner of Wendell Falls Parkway and Hidden Lane, at 2232 Wendell Falls Parkway. It is part of up to two million square feet of retail space, including restaurants, shops and services that is planned for Wendell Falls. The exterior of the new restaurant will incorporate rich colors and a material pallet that is consistent with the clean architecture of Wendell Falls.
"This is a tremendously exciting time for Wendell Falls. We are developing multiple commercial destinations with different form and function allowing us to cater to a wider variety of concepts that appeal to a broader host of interests," said Dan Klausner, Vice President of Commercial Real Estate, Newland. "We have ample space to differentiate segments with factors such as merchandising, level of connectivity, location and even architecture, with some spaces being more service-oriented while others will be more experiential."
Plans for Wendell Falls include several types of restaurants from sit-down dining to fast-casual concepts, such as Bojangles, with a balance of local, regional and national operators in order to provide the Wendell Falls community and its thousands of residents with a variety of choices. Newland and its commercial partners are experienced in developing walkable, interconnected commercial destinations for homeowners with thoughtful consideration to overall design, traffic and neighborhood integration, while offering a selection of options with broad appeal.
"We are extremely pleased to close on the land in Wendell Falls and look forward to serving our delicious chicken, biscuits and Legendary Iced Tea® to the people in this community," said Tommy Haddock, president of Tri-Arc Food Systems, Inc., franchisee of Bojangles Famous Chicken 'N Biscuits.
Wendell Falls is represented by CBRE|Raleigh's Retail Services and Land Services groups. Capitol Properties, LLC represents Tri-Arc Food Systems, Inc.
About Wendell Falls
Wendell Falls, a new-home community in Wendell, North Carolina, combines small town community with big city urbanity. Different by design, Wendell Falls offers the walkability and cultural hotspots of downtown living with its 2 million square feet of current and planned shopping, dining, medical, employment centers and entertainment. The community beckons families to celebrate play and fresh air across its 237 acres of parks and open space, 10 miles of trails and pathways and an outdoor pool and pier. Brimming with events, Wendell Falls celebrates inclusivity, creativity and a broad, hopeful perspective. Newland, the developer of Wendell Falls and sister community Briar Chapel, holds the title of 2019 Developer of the Year. The Wendell Falls information center is located at 320 Vintage Point Lane, Wendell, NC 27591.
Wendell Falls is owned in a joint venture partnership between North America Sekisui House, LLC (NASH), the US business unit and a subsidiary of Sekisui House, LTD., Japan's largest homebuilder and leading diversified developer, and Newland, the master developer of the community. NASH and Newland share a deep commitment to sustainable development practices and apply these core values to the vision, planning and development of their projects. Wendell Falls is one of more than 20 communities the NASH-Newland partnership owns together across the US. newlandco.com | nashcommunities.com.
About Bojangles
Bojangles, Inc. is a highly differentiated and growing restaurant operator and franchisor dedicated to serving customers high-quality, craveable food made from our Southern recipes, including breakfast served All Day, Every Day. Founded in 1977 in Charlotte, N.C., Bojangles® serves menu items such as made-from-scratch biscuit breakfast sandwiches, delicious hand-breaded bone-in chicken, flavorful fixin's (sides) and Legendary Iced Tea®. Currently, Bojangles has approximately 750 system-wide restaurants in 11 states. For more information, visit www.bojangles.com or follow Bojangles on Facebook, Instagram and Twitter.
Contact Us
Please click below to contact our team and we will be happy to answer any questions you have!
Contact Us
Categories