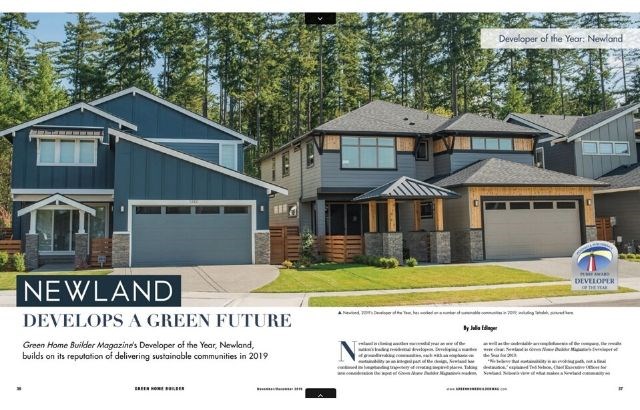 Newland is Green Home Builder Magazine's 2019 Developer of the Year
A business management tool for homebuilding professionals, Green Home Builder magazine is a national homebuilding magazine.  Readers include top industry executives, company presidents, CEOS, sales and marketing teams, architects, designers and engineers, and suppliers, manufacturers and distributors.
In this year's December publication, Newland is awarded 2019 Developer of the Year for it's its focus on sustainability, future residents, and regional community-- from the start of each development to the finish.  
Ted Nelson, CEO of Newland, is quoted in the publication below:
"I'm most proud of seeing families thrive well into the future.  You know you've touched literally thousands of lives, and that we've made those lives better by building a more sustainable community."
To read the full feature and learn more about Newland's nationally acclaimed sustainability practices, click here.
Contact Us
Please click below to contact our team and we will be happy to answer any questions you have!
Contact Us
Categories