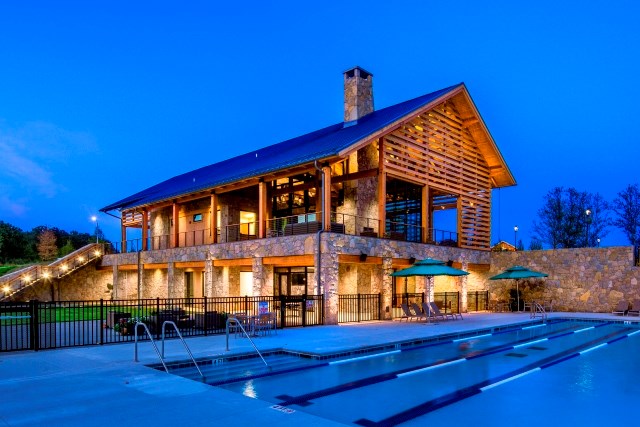 'Hipsturbia' built to last in the Triangle
By Caleb Harshberger  – Staff Writer, Triangle Business Journal
January 10, 2020
In 2017, Jack and Martha Nales planned to wait one year to buy a house — then they visited Wendell Falls.
"We had agreed we were a year away from moving, but she wanted to look at houses – and I thought it's a cheap weekend date," Jack Nales says.
"The first home we saw, the realtor came by and let us in, and we bought the house. We weren't planning on buying, but we fell in love with the house. Didn't look at any others. Haven't regretted it."
For Jack, 63, and Martha, 60, their new home had just about everything they were looking for: proximity to Jack's two children in Wilson and Johnston counties; access to area amenities and nearby shops; and a large open-layout at just a little over $300,000.
"I've never seen anything like it," Jack Nales says. "It's really great."
After just one visit, the couple soon joined the growing number of people flocking to the newest trend in suburban development: hipsturbia. And while the name might make it sound like these spaces are packed with millennials, in fact the trend is attracting a wide range of ages.
Unlike traditional suburban subdivisions, Wendell Falls is one of a growing list of communities in the Triangle and around the country to design walkable, master-planned communities featuring a wide variety of residential offerings interspersed with amenities and retailers with plans to add entertainment and office space as the community grows.
The overall effect is to create a sort of town within a town, hearkening back to a time of small towns offering a self-sustainable, live-work-play environment where residents were within walking distance from all their needs.
Over the years, these communities have sold thousands of homes as residents across the region flock to communities with all the amenities of an urban core without the challenges of city living.
Coined in 2013 in The New York Times, the term "hipsturbia" refers to renewed interest in suburban placemaking and walkable destination development. As young families – and others – found themselves priced out of Manhattan and even Brooklyn, they fanned to traditional suburbs and began seeking the same cosmopolitan options as in the city.
In its annual Emerging Trends report, the Urban Land Institute named it as one of the leading trends in suburban development.
"Cities and their suburbs have evolved tremendously since the mid-1990s," the report says, "and the 'proof of concept' of live/work/play has long since been established in the sociological sense of lifestyle preferences and has also been validated in terms of superior real estate investment returns."
"If the live/work/play formula could revive inner cities a quarter-century ago," the report reads, "there is no reason to think that it won't work in suburbs with the right bones and the will to succeed."
Both established suburbs and developers have seized on this trend.
Wendell Falls, developed by San Diego-based Newland and entitled for 4,000 homes, priced from the $200,000s to $600,000s, is just one of the most recent developments in the Triangle to capitalize on it.
"We love it. It's like living in a resort community," Jack Nales says. "It has all the small-town charm, and you're not surrounded by the city."
Jack and Martha Nales moved to Wendell Falls in 2017, after a visit to the community saw them bump up their moving plans by a year.
A destination in waiting
Typically, these communities and developments have sprouted as downtowns and surrounding urban areas have priced out residents looking for a walkable place to live while staying within their means.
And these communities vary from massive developments, planned and built by a single developer, to whole towns that grew organically over the decades.
Of the Triangle's many small towns and suburbs, one of the most indicative and oldest communities to embody these "hipsturbian" values is the town of Carrboro, adjacent to the more expensive Chapel Hill.
Residential neighborhoods and multifamily communities wrap around the town's bustling downtown, packed with thriving local businesses and teeming with residents and visitors.
Mayor Lydia Lavelle says much of this has been developing in Carrboro for years, while many communities around the region have only just begun seeing the development of condos and apartments geared to attract younger residents.
It's almost like we were already doing that," Lavelle says. "We don't have the skyscrapers or the really tall buildings that cities have or even the suburbs are building. We very much have encouraged development that has encouraged people to live near places they can shop, get a bite to eat – places where they don't need to get into their car and drive there. This is something that's evolved in Carrboro in the last 20 years or so."
Economic and Community Development Director Annette Stone says the seeds were planted in the 1980s, when town officials loosened restrictions on dense residential development to allow for more multifamily development.
"That really changed the demographics of the town and really changed the complexion of the town," she says.
New residents flooded in.
"This is when it really started to get the progressive vibe that it has," Stone says. "It really started changing things. The town started focusing on bike lanes, mobility in general. We've kind of been on the forefront of that."
All these new people needed places to shop, and the Carrboro business community was ready to grow to meet their needs — often with support from the town.
"We've supported our local businesses, tried to keep them there and helped them as they've expanded," Lavelle says.
Meanwhile, other towns have started to take notice of the benefits of mixed-use destination qualities and have begun to take a similar tack.
Rolesville, for example, passed its Main Street Vision plan a few years ago in the hopes of attracting new retailers and restaurants.
Mical McFarland, the town's community and economic development manager, says the goal was to "create a sense of place for residents and visitors to shop and eat."
Already, at least one developer has proposed an 800-unit mixed-use community in town, depending on the success of some of Rolesville's infrastructure plans.
Meanwhile, thousands of new homes are planned for that area in the coming year.
Developers jump in
Today, much of the hipsturbian development in the Triangle is done by developers who, rather than wait for a town to sprout organically, will simply buy the land needed — often hundreds and sometimes thousands of acres — and plan it themselves.
Among the earliest was Southern Village in Chapel Hill, which was built in the 1990s in the New Urbanism model of mixed-use placemaking. Developer D.R. Bryan visited sites around the United States and also visited Pienza, Italy, to see its classic main square that was built during the Renaissance.
Southern Village features a wide variety of commercial and residential offerings, with everything from local shops and restaurants to hotels, apartment complexes and a movie theater.
Interest in the development, which features 1,100 homes (of which about 500 are single-family homes) is intense – local real estate websites currently list no single-family homes for sale in the development. Last year, only 26 single-family homes sold in the development, and the average days on the market was 26, or less than four weeks.
That compares to 26 homes sold in 2018, 35 in 2017 and 41 in 2016.
And all commercial property in Southern Village is under lease, according to Bryan Properties.
In 2017, the developers behind the project announced the opening of a 110-room, 5-story Hyatt Place hotel, which the developers had planned to add since starting the project in the mid-1990s.
Other developers have since followed in Southern Village's footsteps, building and opening their own mixed-use destinations.
In 2008, Newland began work on Briar Chapel, its first development in the region.
The company's style is to buy and entitle the land, install much of the needed infrastructure and sell the all-but-developed land to home builders or commercial developers.
This allows Newland to maintain control of the overall build-out of the plan through how the property is entitled and through which developers they choose to partner with, without requiring the company to do the building.
It also allows its partners to get started quickly on land that needs no new entitlements and often needs no additional infrastructure.
When multifamily developer Blue Heron announced its latest apartment project in Briar Chapel, company project manager Kevin Wade said all this made the community an attractive place to build.
"From a feasibility standpoint, Newland has laid an enormous amount of groundwork working with the local government and laying in the infrastructure," he says. "You can look around at the Triangle, and see how many of these communities (there are), and it kind of proves out the attraction for tenants. And people want to live in these communities and that's attractive for us."
For the Nales, one of the biggest advantages they've experienced is the strong community forming in the burgeoning development.
"I know more neighbors here than I've known anywhere else I've lived in my life," Nales says. "There are always parties and get-togethers and potlucks we're having on our street."
Neighbors, often with the help of the homeowners' association, have formed a wide variety of clubs and groups for residents interested in everything from reading and parenting to fitness and exercise.
And while the term hipsturbia is often associated with the younger generation of homebuyers, in practice, these communities host a wide variety of residents of all generations. In Briar Chapel, developers unveiled a new age-restricted apartment community planned for the development, and in Wendell Falls, Jack Nales says the wide generational variety has made the community more vibrant
"We wanted to live in a neighborhood of people with different ages and backgrounds and everything," he says. "This has it. It has retirees, new families, it's just a great mixture of everybody and it just adds to what we enjoy about being here."
Impressive results
For developers and master planners in the Triangle, the hipsturbia recipe appears to be working.
Newland continues to announce new projects and developments planned at Briar Chapel and Wendell Falls as home sales continue.
Michael Scisciani, vice president of operations for Newland says much of the commercial demand can be explained by the convenience and speed with which a developer can go from the planning phases to breaking ground.
"There's not a lot in the submarket that can support the kind of development we have," he says.
With Blue Heron's new apartment community, Briar Chapel is built-out in terms of multifamily product, though Newland is still working with commercial developers to fill out the remaining retail space, with the potential for a new grocer to announce its plans to join the community in the near future.
In Wendell Falls, home sales have been strong, with 2018 sales surpassing the previous year by 30 percent and 2019 sales on track for another double-digit bump from 2018.
Even Southern Village, after two decades of development, seems to see no decrease in popularity from prospective homebuyers.
Last year, the community came in as the 21st fastest-selling neighborhood with all homes averaging four days on market despite an average price above $500,000.
More projects planned
Across the Triangle, developers are filing plans for new developments featuring live-work-play walkable designs.
In Johnston County, Kevin Dougherty's AdVenture Development has been accumulating 470 acres to build Eastfield Crossing, a 2.8 million-square-foot development stretching between Exits 97 and 98 along I-95 outside of Selma.
Holly Springs has several proposed, including the Chandler Property Group's Green Oaks West, The Spaulding Group's Village Gate and Shenandoah Homes and Lennar Corp.'s Carolina Springs.
Perhaps the largest is in Pittsboro, where the Preston Development Company is developing the 7,100-acre Chatham Park. Construction already began on the commercial gateway, called Mosaic, and work on the first homes is set to begin this year.
Meanwhile, in the two years since the Nales moved into Wendell Falls, much has changed. What was once acres of trees and vacant land across the street has become a long row of houses, with many more on the way.
Still, Jack Nales says they knew these changes were coming and that it's good to know they'll be coming as a part of a larger cohesive plan for the community.
"We're definitely seeing the traffic getting more congested and we expect that to continue," he says. "But you can see the development has been giving a lot of thought in how it was laid out, and you get the sense the growth was anticipated and it'll be managed."
Today, he says they are thrilled with their decision to buy in Wendell Falls.
"Love at first site," he says. "We're two blocks from the Farmhouse Cafe, which also has the swimming pool and the gym. It's just been great. We've enticed at least one friend to move out here."
Contact Us
Please click below to contact our team and we will be happy to answer any questions you have!
Contact Us
Categories