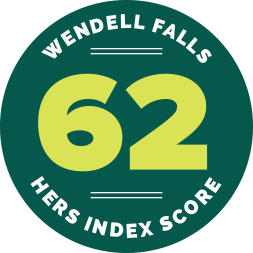 25% MORE EFFICIENT THAN AVERAGE HOMES
Wendell Falls is the only master-planned community in the Triangle built entirely with ecoSelect homes, inspected by Southern Energy Management to deliver top quality and maximum efficiency through high-performance insulation, reduced water usage and improved indoor air quality. That means lower bills for you, less waste pollution in your world, and more $$ for all the fun stuff.


The Home Energy Rating System (HERS) Index is the nationally recognized industry standard to measure a home's energy efficiency by inspecting and calculating a home's energy performance. The lower the HERS Index Score is, the more energy efficient the home is.


Combined annual savings across the community? $87,926†
Average savings per ecoSelect home? $228 yearly†


That's equivalent to…