You're Invited to the Biggest Open House Event of the Year!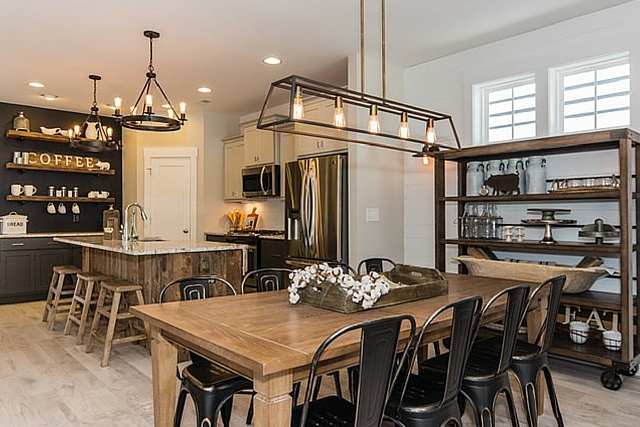 Cali Buhrman
Marketing Coordinator
You asked, we delivered! The biggest Open House event of the year is back at Wendell Falls, with over 40 move-in ready homes available to tour! Start the year off with fresh new ideas and home plans from our top homebuilders, with plenty of refreshments, giveaways, and demonstrations along the way!
Make your first stop the Farmhouse to pick up a map and receive information on our ecoSelect certified homes and amenities, including on-site Grounds Café, saltwater pool, and our extensive parks and trail system! Then, take a tour through our gorgeous models and get the scoop on the hottest trends, tips, and ideas for your home.
These events are open to the public and will be held on the last Saturday of February, March, and April 2017, from noon to 5 p.m. each day. We look forward to seeing you, and showing how you can connect, live, and play at Wendell Falls!
Our next Open House will be:
April 29, 2017—PLAY: Our mantra is work hard, play hard—and with miles of mountain bike trails, open space, and community events like our Farmhouse Jams concert series, there is no shortage of ways to unwind at Wendell Falls. Come celebrate the Grand Opening of our brand new amenity, Three Points Park! Kids will love our brand-new Kompan playground, and you can watch from afar with the pups at our shaded structure. Make sure to stop by the Farmhouse for your change to win an Apple Watch 2!***
Wendell Falls is also part of the Green Home Tour this year, with featured plans by Garman Homes and Homes By Dickerson. Come tour the top designs and materials for energy efficiency and top green building trends, plus learn more about our community-wide ecoSelect program! The Green Home Tour runs April 29-30, 2017 and May 6-7, 2017.
To learn more about the Wendell Falls open house events, please go to wendellfalls.com/open or visit us at the Wendell Falls Information Center: 320 Vintage Point Lane, Wendell, NC 27591.
***No purchase necessary. Legal residents of the 50 United States and D.C. Must be 18 and older. Void where prohibited. Limit one entry per person. Entry forms must be deposited at the Wendell Falls Information Center from 9am ET on February 4, 2017 through 5:00pm ET April 30, 2017. Official Rules are available at the Wendell Falls Information Center. See Official Rules for prize descriptions, odds disclosure and complete details. Sponsor: NASH Wendell Falls, LLC, 320 Vintage Point Lane, Wendell, NC 27591. The purpose of the sweepstakes is to promote the sales of home at the Wendell Falls community. Sponsor may suspend, modify, or cancel sweepstakes at any time. Residents, Newland employees, NASH Wendell Falls, LLC employees, Wendell Falls Community Association, United Community Management employees or family members are not eligible for sweepstakes.
NASH Wendell Falls, LLC ("Fee Owner") is the owner and developer of the Wendell Falls Community ("Community"). Certain homebuilders unaffiliated with the Fee Owner or its related entities (collectively, "Wendell Falls") are building homes in the community ("Builder(s)"). Fee Owner has retained Newland Communities solely as the property manager for the community. North America Sekisui House has an interest in one of the member in Fee Owner. Newland Communities and North America Sekisui House are not co-developing, co-building, or otherwise responsible for any of the obligations or representations of any of the Builders, and shall have no obligations to any buyer regarding a home purchase from a Builder. Purchasers of homes from any of the Builders waive any claims against Newland Communities and/or North America Sekisui House arising out of their purchase transaction.
Actual development may vary from developer's vision. No guarantee can be made that development will proceed as described.
Prices, specifications, details and availability of Builder's homes are subject to change without notice.
2017 © Wendell Falls. All Rights Reserved. Wendell Falls is a trademark of NASH Wendell Falls, LLC, an may not be copied, imitated or used, in whole or in part, without prior written permission
Recent Posts
---
Tags
---
Archive